Unnatural Habitats and Other Stories. By Angela Mitchell. (WTAW Press, 2018, Pp. 186)
Reviewed by C. D. Albin
The seven linked stories in Angela Mitchell's debut collection Unnatural Habitats are set on both sides of the border between Missouri and Arkansas, but the dividing line most interesting to Mitchell is psychological rather than geographical. Fascinated by the boundary between the human and the wild, Mitchell chronicles pivotal moments in the lives of adulterous teachers, drug-dealing insurance agents, and female bank robbers in order to probe just how porous that boundary may be. In Unnatural Habitats, it proves porous indeed.
The opening story, "Animal Lovers," introduces Dee, a recurring character from Fayetteville who exemplifies the collection's recurring motif of marital dissatisfaction. Dee is uncertain why she finds so little fulfillment in marriage, but when her husband agrees to a divorce by calling dibs on the couple's china, she thinks, "maybe this was why, because she knew she'd never want to get pregnant by a man like him, one who honestly valued china or silverware or the crystal goblets for which she'd so foolishly registered" (3). Recoiling from her husband's yen for refined domestication, Dee demands the couple's two "half-golden  . . . half-unknown" (9) retrievers, apparently drawn to their remnant of wildness inherited from lupine ancestors. By story's end Dee has taken up with a wilder sort than her ex-husband, a man who transports her "somewhere she'd never been before, miles, probably, from the nearest highway, deep in the Arkansas woods" (27). There, in the man's bed, she strokes a feline pet that is much less tame than her two dogs, finding "the race of its heart faster and more familiar than she expected, something closer to her own" (28). Dee is one of several characters in Unnatural Habitats who seek wildness, if not consciously then reflexively; however, by the time she exits the book she has encountered levels of recklessness that leave her unmoored.
In contrast to Dee's adventurousness, Garnet Clark of the story "Deeds" covets peace and predictability, yet is threatened by an increase in drug-related crime and the chaos attending it, which for him constitute the most disruptive aspects of the modern Ozarks. "People were more afraid these days and he guessed he was the same way" (106). A native Arkansan who grew up "in a rocky holler so deep, it stayed shaded and dark most of the day" (106), Garnet has married into a prosperous seventh-generation Missouri farm family whose involvement in the drug culture staggers him. His chief antagonist turns out to be his brother-in-law Jody, to whom Garnet attributes various traits of a parasite and an armadillo. The conclusion of the story offers a reversal though, asking readers to contemplate the same questions Garnet ponders about himself: "It would please him, wouldn't it, to hurt Jody? To scare Leland [Jody's father]? To make father and son fear the place they thought they knew so well" (129)?
Fear animates the collection's title story as well. In "Unnatural Habitats," Layton Vines believes "there are wolves all around and he can't be too careful" (141), a paranoia engendered by his use of an insurance agency to front his drug operation. Both enterprises have prospered, enabling Layton to live "in a subdivision of garishly overbuilt houses" (141), with neighbors who "are businessmen and bankers or big honchos at Tyson—Arkansas's new rich" (142). Yet Layton perceives danger even within the walls of his own home. Fearful his oldest child Elijah is plotting a kind of insurrection, he marks territory by reminding the boy that the house is Layton's "castle," even his "kingdom" (165). Despite the fact that Layton is unquestionably a dangerous man, the son does not allow himself to be intimidated. With an appearance that reminds his father of a wolf, Elijah bides his time like a patient predator, eventually ousting Layton and leaving him alone in the thick woods where Layton makes of  himself "an offering and a sacrifice to the wild all around" (183).
The list of wild creatures making appearances in Unnatural Habitats is extensive. These creatures include bobcats, eagles, snakes, and lizards, with a liberal sprinkling of wolf imagery, but Mitchell keeps the narrative focus on her characters' reaction to the animal other. The result is a book whose people are drawn from the inside out and who are measured, in part, by how much they are attracted or discomforted by wildness. Such wildness is usually exhibited in a character's willingness to live outside society's laws or mores. By setting these stories exclusively in southern Missouri and northern Arkansas, Mitchell makes use of the increasingly familiar trope of the Ozarks as an outlaw society, but she enlivens that trope in new, interesting, and highly readable ways.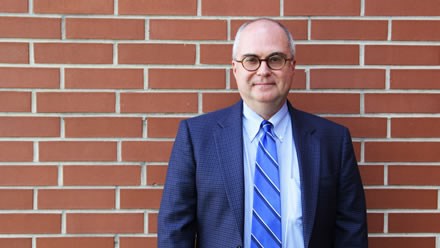 Craig (C. D.) Albin is a professor of English at Missouri State University–West Plains. In 2009, he became the founding editor of Elder Mountain: A Journal of Ozarks Studies. His fiction, poetry, essays, and reviews have appeared in a number of publications, including Arkansas Review, Big Muddy, Cape Rock, Cave Region Review, Georgia Review, Harvard Review, Natural Bridge, Philological Review, and Style. Ten of his short stories were collected in Hard Toward Home, published by Press 53 in 2016, a collection for which Albin received the Missouri Author Award from the Missouri Library Association in 2017. His poetry collection, Axe, Fire, Mule, was published by Golden Antelope Press in 2018.