Review of Troubler. By Elijah Burrell. (Kelsay Books, 2018)
Reviewed by Paulette Guerin
Elijah Burrell's first collection The Skin of the River tells of a boy's coming-of-age in rural Missouri amid an eclectic mix of characters and adventures echoing those in The Odyssey. Burrell's second collection Troubler revisits this landscape, this time with an Old-Testament-prophet-meets-Tiresias figure called Troubler, who delivers advice and warnings to the poet at crucial moments. The collection, structured like a double album, is divided into four parts: LP 1 Side A and Side B, and LP 2 Side C and D, with the Table of Contents as its track list. The poems function as songs, each side self-contained and with its own arc. Unifying the collection is the mother's cancer diagnosis, latent until the third section despite hints present in the opening poem "Tonight I Wish I were a Dirt Dauber." In this poem, the poet wishes he could
                                feed
forever on orb weavers
and forget words like prognosis
and treatment. I'll be the sting,
not the stung, and Death
will hear my hum in his worn-out ears.
The poem doesn't explain whose prognosis or treatment, but those words haunt the landscape. Troubler appears in the next poem and offers the first of many enigmatic "tellings," describing a scene in which the poet, fishing from a make-shift Styrofoam raft, watches the bobber disappear. Instead of a fish, though, Troubler says, "Somebody's got it. / Your heart, you know it now, is a rod / bent to the deep, just before it snaps." As with many of Troubler's tellings, it is as much a metaphor as it is a preview. We are in for inevitable heartbreak, as sure as a fish takes bait. Troubler's parting words are a refrain, chilling us here and elsewhere: "I give you notice."
It is first hard to tell how menacing his words are, as the poet remains unfazed after most of Troubler's revelations. For example, in the poem "In My Thirteenth Year, Troubler Predicts a Few Things," the poet says, "I don't believe a word he says, / but somehow trust him." Here Troubler tells the teenager a smattering of events to come—from playing small musical venues (one with sorority girls) to digging graves—and all the boy can muster in response is the age-appropriate: "When am I going to meet the sorority girls?"
Though Troubler's visits usually follow a formulaic visit plus telling, Burrell varies the forms Troubler takes, as well as the places Troubler appears. Troubler comes as a diner waitress or even a freakish mannequin to criticize the teenager's love of airbrushed posters objectifying women. Like Tiresias, Troubler has been both man and woman and is able to offer advice from both perspectives. But Troubler, in whatever form, is still the archetypal rough-around-the-edges aunt/uncle who can speak about the present and mundane in a way that says s/he's seen it all. Troubler isn't responsible for the poet's troubles; though a shape-shifter he's not a trickster. In fact, over the years the poet and Troubler develop a rapport, with Troubler's presence accepted, if not welcome, despite what news he might be bringing. Troubler even comes to care for the protagonist, rooting for him as though he has a stake in his success.
As in The Skin of the River, the coming-of-age poems reverberate through the collection. Perhaps it's their ability to merge the common, quiet act of fishing with first love or lust: "Her eyes / flash like spinner bait; her kiss hooks him," or religion: "My mind was a Baptist's, my heart a psalmist's / and I wanted so badly for her to know them both."
The collection's emotional center is fully revealed toward the end of LP 2 Side C ("In My Thirty-Sixth Year, Troubler Makes Known a Secret") when an apologetic Troubler asks if the poet has a few minutes alone. This can only mean bad news. Troubler prophesies the mother's physical transformation: "The pounds slip off her belly, hips, and arms / like rainwater, easy and careless," while also speaking to the cyclic mother-child connection: "When you were a boy, you rested your ear / on the warm cushion of her chest / and measured your breath to match hers." Troubler's chiasmic telling is formally interesting, with multiple lines repeated or echoing, to achieve the sense of past and future in the mother's "rhythmic foreverness."
A high moment of the collection is the sonnet "Sweet Dreams of You," when the speaker, in his grief, cannot complete thoughts or sentences: "End eyes below Mom mix wait country . . . Only she knows pain pump people fooling muscles sweet / It's going to be ok the sonnet can't die . . . From ozone sage humming windows gold . . . The night sweet you, dreams you of someone gone." Here Burrell's risks pay off. We've followed the lyrical elegies, the sorrowful lyrics, and the words left unsung. Here we see the jumbled mess of words and song, bits of past colliding with the present. It's convincing, this grief, an attempt to process without overt metacommentary on the difficulty of processing. We merely see the failure to organize, the immediacy rather than the (re)collection.
Side D shows the practical side of loss—the funeral man coming to take the mother's body, the visitation. Then we've given snippets as he's driving, the poem pelted with sounds, the poet finding his rhythms again:
[. . .] handfuls of sleet
buckshot the windshield, a kamikaze cadence
of BBs on glass. Death is the final word,
but still she talks to me over winter weather,
over the sound of every other voice.
It's a small comfort, but something, even if the perilous road conditions are a metaphor for where the poet is, driving past "cars ditched and buried in snow listening for rescue."
As in Burrell's first collection, this is the story of a life being lived, of human dramas playing out, of broken pieces glued together. Burrell doesn't shy away from sharing when the collection's protagonist feels he falls short—missing the notes when playing for his mother is more poignant than a perfect song. The moments of linguistic beauty are quiet, measured. But Burrell can also make words dance: "Years bend like teaspoons/ washed into garbage/disposals: nicked sharp/ and out of shape."
Satisfyingly, the collection ends with one of Troubler's prophecies fulfilled—the poet, with his fishing rod bent, understands something for the first time: "This shape, I know it now. Only in being / bent, does the heart become the heart it's meant to."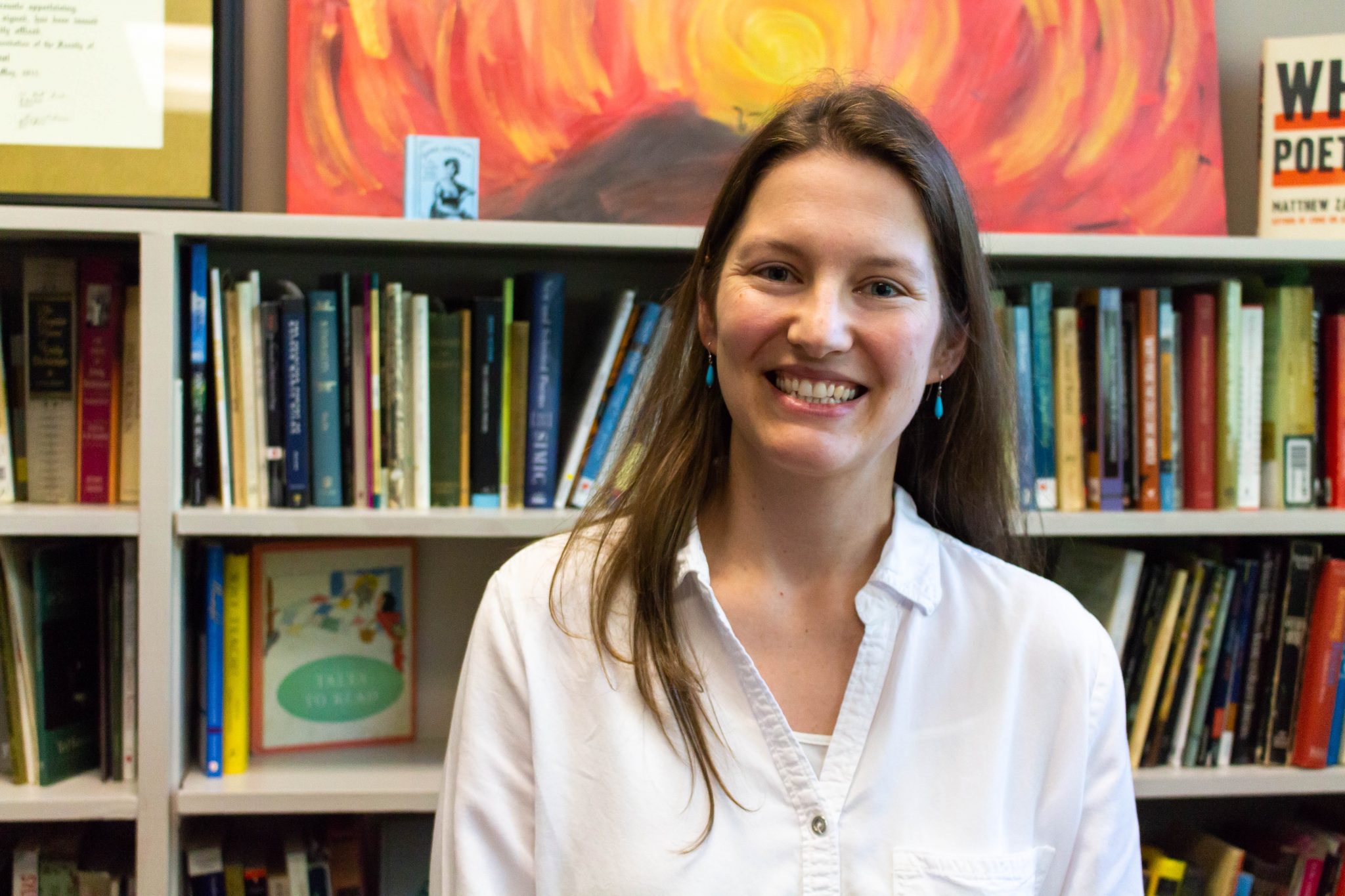 Paulette Guerin earned a MFA from the University of Florida, and she now lives in Arkansas where she works as a freelance editor and teaches English at Harding University. Her poetry has appeared in several journals, such as Green Briar Review, Cantos, Concho River Review, Summerset Review, The Main Street Rag, and The Tishman Review, and she has a poem forthcoming in the 2018 Best New Poets anthology. Her chapbook, Polishing Silver, was published by Finishing Line Press in 2011.