Review of Paranoid People. By Creek Stink. (Eastwind Recording, 2018)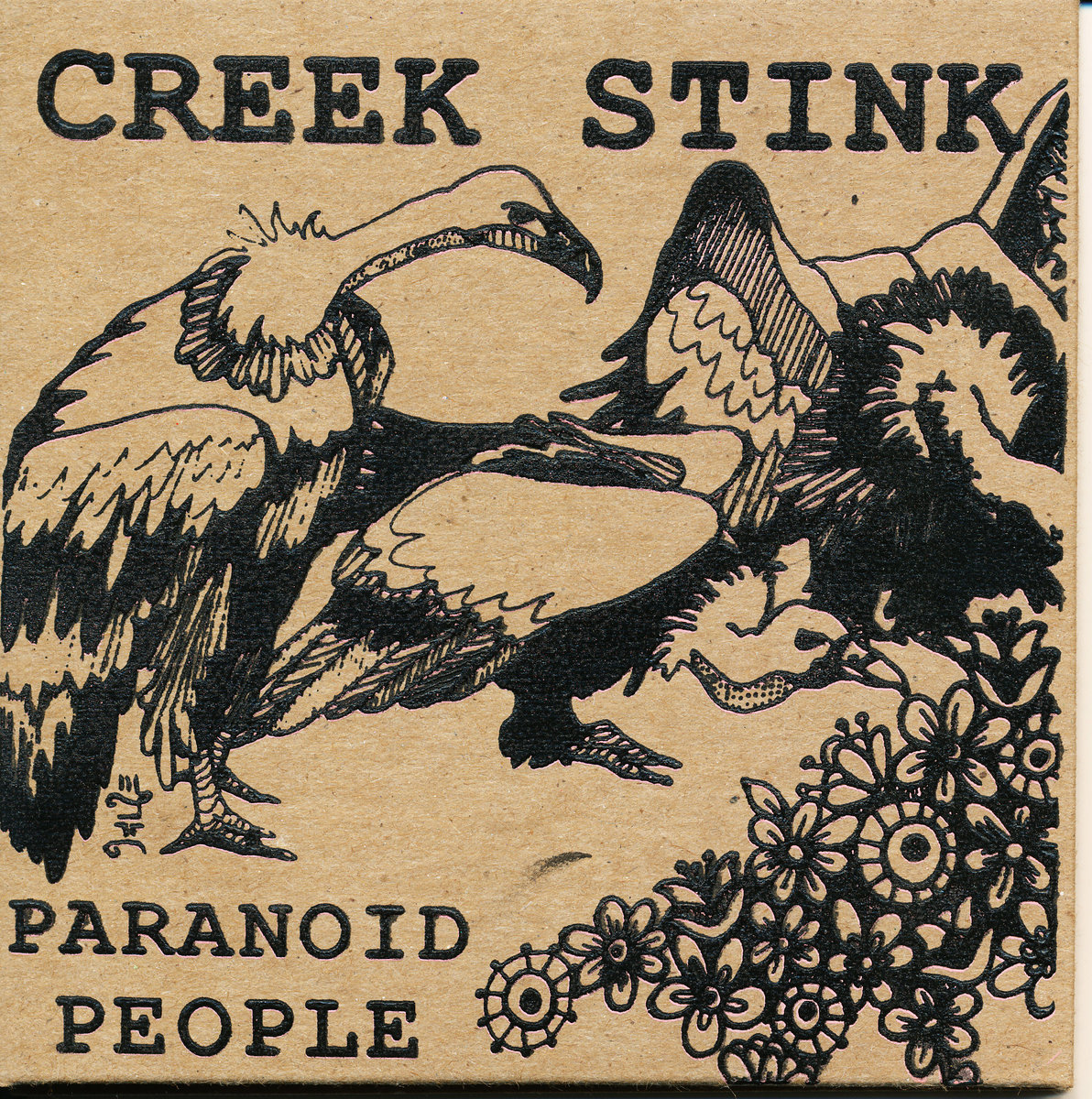 Reviewed by Thomas Kersen
The band Creek Stink has released their latest CD Paranoid People. Members of the band include Eric Bogwalker, who is the lead vocalist, guitar, drums, and harmonica. On the fiddle, slide guitar, tambourine, and vocals is PT Wesley. Carlos Ferrer plays the banjo, djembe, tambourine, and adds vocals. Rounding out the band is Amelia LaMair, who plays the bass guitar. Most of the lyrics are by Bogwalker except for "Red Rocking Chair," which is a traditional tune, and "Throw Another Brick," which was co-written with Luis "Gabe" Alavarado. Many of the songs on Paranoid People such as "Catfish, "Cursed," and "Paranoid People," have been featured on earlier releases by Creek Stink. This time around, however, the songs were recorded at The Studio in Springfield and produced by Eric Schuchman, who also mixed and engineered the tracks. Schuchman is a protégé of famed music engineer Lou Whitney, who operated The Studio until his death in 2014. Whitney worked with such bands as Ozark Mountain Daredevils, an important influence on Bogwalker when he was growing up in the Ozarks.
Creek Stink has played with other bands, such as Mountain Sprout, Clawhammer, and the John Galbraith Trio, throughout southern Missouri and northern Arkansas. It is Mountain Sprout, a band out of Eureka Springs with a long discography, that Creek Stink shares a certain groove. Mountain Sprout, often referred to as a "Hillbilly music machine," has a bluegrass rockabilly sound, as does Creek Stink. Listening to Eric and the others play reminds me of a similar band that emerged in the Mozarks in the 1970s called the Hot Mulch Band. The punk rock influence in Creek Stink's music, however, makes them a bit different than anything else in the region. Their music is usually fast paced blue-grass with a lot of fiddle and bass and stripped-down lyrics.
The title track "Paranoid People," has an up-tempo sound, but the lyrics are about the state of world in the 21st century. People are urged to move back to the land as a reaction to climate change and violence. Where Hot Mulch sang about the back-to-the land movement, particularly sustainability and community, in "Paranoid People" and other songs, the message is a bit darker. Besides moving back to the land, various songs urge us to simplify our lives and rely more on ourselves for solutions. In the song "Wild Mess," Erik sings about cars out of gas and people going hungry. In a similar style to "Paranoid People," the song "Strange Guy" has witty lyrics, and the band reminds me of the Meat Puppets. I love the whole bit about the Mason jar, having experienced shady characters handing me things in Mason jars that later I should have regretted. Of course, I love the Meat Puppets, a band Eric also admires. Meat Puppets has a country-punk sound that caught the ear of Black Flag's guitarist Greg Ginn's who signed them onto SST, his recording label. SST's impressive catalog of alternative, punk-rock music has influenced a lot of artists, including Eric.
Another theme in Paranoid People is that the system isn't working for most people and we need to rely more on ourselves. In some ways, Creek Stink's message isn't far from some of the songs put out by Black Oak Arkansas, Ozark Mountain Daredevils, and other bands. Self-reliance, patience, and living in the moment are all important ingredients of making it through tough times. Songs such as "Son of Nothing," "Money Bitch," "Junkyard Queen," and "Liquor Store," highlight the notion that we have passed the point of being saved through large-scale social systems and movements. I like the guitar in "Money Bitch" and the song has a semi-country-Rolling Stones sound. "Liquor Store" is a more punk-infused tune. A sense of anomie or alienation is played out in "Cursed" where everyone has abandoned the protagonist early in his life, such as his father hopping on a train and disappearing. The band gets these deep points across in a usually upbeat manner and often with comic twists.
The song "Rhymes You Know," encourages the listener to take the time to rhyme, sing, and just enjoy life. As every Ozarker knows, one way to really have fun involves catfish. Catfish fishing, eating, or even singing about them, as in "Catfish, is a major part of life in the Ozarks. Two songs "Red Rocking Chair," a traditional tune, and "Throw Another Brick," have a lot of fiddle and simple fun lyrics. The instrumental "Pateroller" showcases topnotch playing by everyone. The last song, "Spider Eyes" is really different from the other songs on the CD. Warnings of copperheads, caves, and witches make this a great tune for the Halloween season.
The songs on Paranoid People are great and the musicianship is wonderful. The mix and sound in the songs is a testament to the production offered by The Studio and Eric Schuchman. I look forward to hearing more from this band. I highly recommend "Paranoid People" by Creek Stink.
Thomas Kersen is an associate professor of sociology at Jackson State University. One of the major facets of his research is communal activity in the south. He received a PhD in sociology from Mississippi State University.